Cathedral Lecture
A place where Church & Society meet
The Cathedral Lecture was launched in 2016, the 150th anniversary of the arrival of the Diocese of Maitland-Newcastle's first resident bishop, James Murray, and is hosted each year in the Sacred Heart Cathedral, Hamilton.
The annual Cathedral Lecture will offer the opportunity for engagement between the Church and Society on contemporary Catholic themes through the opportunity to listen to lecturers of significant standing in Australia and internationally.
Sacred Heart Cathedral stands at the centre of the life of the diocese, and aims to be a place within the local civic community where Church and Society meet and interact.
The 2017 Cathedral Lecture
The 2017 Cathedral Lecture, entitled Christian Faith in a Secular Age, will be given by Rev Dr James McEvoy, Senior Lecturer in the Faculty of Theology and Philosophy at Australian Catholic University.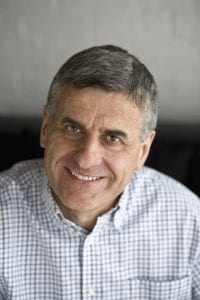 James McEvoy lectures in systematic theology and is a priest of the Archdiocese of Adelaide. For almost two decades prior to 2014 he taught at Catholic Theological College and Flinders University's Department of Theology. His doctoral thesis engaged in the fields of theological and philosophical anthropology, studying the works of Karl Rahner and Canadian philosopher Charles Taylor.
His current research studies the place of religion in the contemporary West and the church's understanding of its role and social relationships in that context. He has published numerous journal articles as well as a book, Leaving Christendom for Good: Church-World Dialogue in a Secular Age (2014).
Bookings (for catering purposes) can be made via the Lecture's Eventbrite page - www.cathedrallecture2017.eventbrite.com.au.
The Inaugural Cathedral Lecture (2016)
The Inaugural Cathedral Lecture took place on Wednesday, 3rd August, 2016 in the Sacred Heart Cathedral, Newcastle, and was followed by light refreshments in the adjoining facilities.
The Lecture, entitled Tradition: Engaging God's Future, Our Past, and the Challenges of the Present, was given by Professor Richard Lennan, Professor of Systematic Theology in the School of Theology and Ministry at Boston College, Massachusetts, and Professor Ordinarius.
Richard Lennan grew up in Newcastle and was ordained a priest for the Diocese of Maitland-Newcastle in 1983. Richard holds a degree in history from the University of Newcastle, a Baccalaureate in Sacred Theology from the Catholic Institute of Sydney, a Master of Philosophy from the University of Oxford, and a doctorate in theology from the University of Innsbruck in Austria, where his dissertation was on Karl Rahner's ecclesiology.
Richard has authored two books and edited four others. His next publication will be the co-edited volume With the Holy Spirit: Responding to the Giver of Life, scheduled for release in 2017.
The text of Richard's lecture will be published in the January 2017 edition of Australasian Catholic Record.