Immaculate Heart of Mary
Tighes Hill
Immaculate Heart of Mary, 16 Tighes Terrace (corner Union Street), Tighes Hill
Usual Mass Times:
Sunday 8.00am
(NB: Please check the Mass Times page for the schedule of Masses for major events of the calendar)
Children's Liturgy of the Word
The celebration of Children's Liturgy of the Word takes place regularly during school terms as part of the celebration of Mass.
---
Characteristics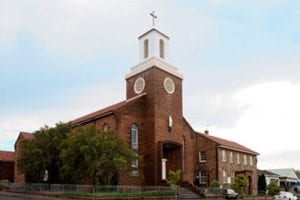 The Church building is spacious and bright with a colourful mural and a number of windows by renowned stained glass artist Arthur Benfield. It is ideally suited for those wanting a small, meaningful wedding, funeral or baptism witnessed by family and close friends. The Sunday Mass congregation is typically composed of mainly mature people and some young families. We have a small choir supported by an electric organ that leads our singing, and our Parish is very sociable with a strong commitment to participation and social justice. Some see similarities between our community and those the scriptures call "God's Poor" or in Hebrew "Anawim."
---
Brief history
The Parish of Tighes Hill was established in 1921 and the current Church of the Immaculate Heart of Mary was blessed and opened in 1955. From 1887 until 1975 there was a Catholic primary
school in Tighes Hill with the previous two primary schools having found new uses. The older school building is now the Catholic Croatian Centre, and the more recent school building has been the base
for Mercy Community Services since 1976.
The Tighes Hill Parish included the former Carrington Parish and St Francis Xavier's Church at 60 Gipps Street, Carrington. This church building is no longer used for public worship.
The number of people living in the Tighes Hill-Carrington area has fallen dramatically in the past 50 years. Despite pockets of gentrification the overall population still has a low socio-economic profile.