St Mary's Star of the Sea
Newcastle
St Mary's is the oldest church in the Parish, completed in 1866.
Usual Mass Times:
Sunday 7.30am
(NB: Please check the Mass Times page for the schedule of Masses for major events of the calendar)
Other services:
St Mary's hosts regular celebrations of Mass in the Extraordinary Form. For more information, contact the Parish Office.
Location:
St Mary's, 54 Perkins Street, Newcastle
---
Characteristics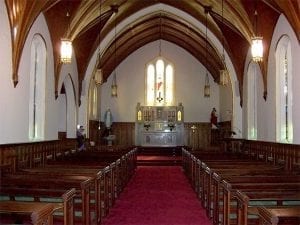 St Mary's is the oldest church in the Parish and has been well cared for, though its age and location requires constant care to keep it close to its original glory. St Mary's is popular with all Parishioners, with many having been married here. It is a small sized church compared with others in the Parish, making it particularly popular for brides, with marriages being performed here most weeks of the year.
St Mary's is a restored heritage sandstone church building with a wide, central aisle and countersunk sanctuary lighting. The wonderful atmosphere in and around St Mary's is largely due to its architecture and its position high above Newcastle Harbour.
---
Brief history
The Parish of Newcastle was established in 1838 and originally covered all of the English settlement in what is now the City of Newcastle. As population grew other Parishes were split off from the Parish of Newcastle, including Hamilton established in 1884. For a couple of years, the area which subsequently became the Parish of Burwood (Merewether) was part of the Hamilton Parish before returning to Newcastle Parish in 1887, to become established as an independent Parish in 1891. Later again, this Parish was divided, and Merewether Beach became an independent Parish in 1939. In 1997 the three communities of Newcastle, Merewether, and Merewether Beach came together once again and now form the present Parish of Newcastle.
St Mary's Church, on the hill overlooking Newcastle Harbour, was completed in 1866. This beautiful Victorian church was remodeled in 1933, at which time many of its internal features were altered. Work commenced in 1999 to restore the church to its former glory, under the watchful eye of the National Trust of Australia (NSW). After two years of painstaking work significant termite damage was discovered, which resulted in the church being temporarily closed from July 2002. In 2015-16 further work began to ensure the stability and beauty of St Mary's can be maintained into the future.
St Mary's opened with weddings in November 2006, and the restored church was officially reopened and blessed on St Patrick's Day 2007, exactly 141 years after its original opening.